Discover the deep yogic truths hidden in the teachings of Jesus
An Evergreen course – Join anytime!
This online, interactive course is designed to give you an inspiring and in-depth understanding of Paramhansa Yogananda's stirring interpretation of Jesus's teachings.
Through nine structured lessons — each addressing a particular facet of Jesus' yogic teachings through written materials and audio and video recordings — you will make the thrilling discovery that Jesus Christ and the self-realized yogis of the East proclaimed the same eternal truths.
Study the yoga teachings of Jesus
based on the deep bible commentaries of Paramhansa Yogananda
Proof that Jesus talked about the following yogic concepts:
Law of Karma
Reincarnation
Om vibration
The Single Eye
Kundalini and the chakras
Yoga techniques to control the life-force (pranayama)
How to transcend mortality
Guru-disciple relationship
How to reap the harvest of Self-Realization
Insights on:
Christianity vs. "Churchianity"
The historical Jesus & the Three Wise Men
Yogananda's guidelines for deciphering the Bible
Answers to the following questions, and more:
What is the meaning of Jesus Christ's "nativity"?
Did Jesus die for our sins? Are we thereby saved by merely "believing" in him? Or is self-effort, too, needed?
Is "eternal hell" possible?
Was Jesus Christ a special creation? Was he the "only" Son of God?
Did Jesus Christ incarnate several times? And, if so, who was he in previous lifetimes?
What did Jesus mean when he said "Whoso eateth my flesh, and drinketh my blood, hath eternal life"?
What was the star of Bethlehem?
What does "baptism by fire" mean?
Who is a born-again Christian?
What does the Holy Trinity signify?
Did Jesus resurrect himself? What is the true meaning of the second-coming of Christ?
Can Christ be seen and communed with?
Is there a deeper meaning behind Peter's "keys to heaven"?
Paramhansa Yogananda's relationship with Jesus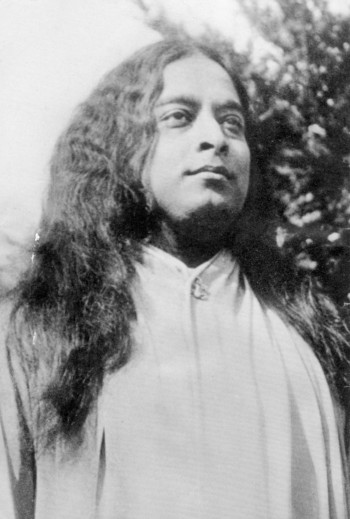 Paramhansa Yogananda said that one of his key commissions was to resurrect the teachings of Christianity as originally taught by Jesus, and to distinguish them from misinterpretations, sectarianism and dogma. He often called his mission "the second coming of Christ." As a part of this mission, he wrote deep, detailed commentaries on the New Testament and the life and teachings of Jesus Christ drawn from his own inner realization and attunement.
♣
"There is a distinction between Christianity and what I call, 'Churchianity.' Christianity is the original teaching of Jesus. 'Churchianity' is what his followers have made of that teaching. Christ was crucified once, but his teachings are being crucified all the time, in the hands of misunderstanding theologians.
"It was Jesus himself who appeared to Babaji, and asked him to send this teaching of Self-Realization to the West . . . Babaji asked me to interpret the Christian Bible and the Bhagavad Gita, or Hindu Bible, and to show that the teachings of both are basically the same. It was with this mission that I was sent to the West.
"As I was writing my commentaries on the Bible, I prayed to Jesus for confirmation: Was what I had written true to his actual meaning? Jesus Christ then appeared to me, after which the Holy Grail also appeared, touched his lips, then descended and touched my lips. Jesus declared, 'The cup from which I drink, thou dost drink.'"—Paramhansa Yogananda
Sign up for this course and receive:
Nine in-depth lessons, based on nine different yoga topics found in the Bible, including karma, reincarnation, chakras, kundalini, the Holy Trinity, guru-disciple relationship, meditation techniques and more.
Each lesson contains:
Downloadable reading material (pdf) compiled from Paramhansa Yogananda's and Swami Kriyananda's writings
a quiz to test your understanding
a one-hour video lesson with the instructor
Life-time enrollment in the course—study at your own pace
Bonus archived video & audio recordings of Swami Kriyananda on the yoga teachings in the Bible
Personal support from the instructor
Enroll now!
Meet your Instructor

Brahmachari Sagar resides in the Ananda Monastery located at Ananda Village in Northern California. Born into a family of kriya-yogis, Sagar read Paramhansa Yogananda's Autobiography of a Yogi at a young age, an influence that culminated in his decision to serve Yogananda's mission through Ananda.
Sagar led Ananda's work in Mumbai for about five years and has served Ananda's work in India and the US as a teacher and counselor to students and as a meditation and stress-relief workshop facilitator for corporates.
Sagar currently serves in Ananda's Online Ministry. He is one of the principal instructors for the Ananda Course in Meditation and has helped create several online offerings such as the full-length courses The Yoga Teachings of Jesus, Karma and Reincarnation and the webinars The Anatomy of the Astral Body, Losing the Fear of Death Through the Science of Yoga, and How to Stand Unshaken amidst Life's Challenges. You can read some of his articles here.
Prior to commencing his life of service at Ananda, Sagar was a graduate student with full scholarship at Boston University and holds advanced degrees in Engineering.
Student Reviews
What an incredible class. I have always felt there must be more to the teaching of Jesus other than what was taught in church during childhood. The information was explained in such a clear and concise manner, and Yogananda's explanations of these teachings of Jesus have filled my heart with a sense of peace and my soul has accepted these interpretations as true. If you are the least bit interested in Jesus' teachings and have only studied the western interpretation, this would be a wonderful way to expand the knowledge. — Monica W. Wisconsin
Thanks to this class, Jesus has stepped out of the Bible and become a living presence in my life, in a most vibrant and thrilling way. Week after week, bible passages come into clear focus and — for the first time — make sense. — Mary D., Arizona
This is a perfect class for sincere truth seekers of any religion. In living the Christian path for many years, and then studying the teachings of Paramhansa Yogananda as an adult, I often wanted to understand how the teachings of Jesus Christ and Yogananda are in essence the same. This class so effectively guides the student through videos, writings, poetry, and music to that ultimate 'understanding.' For me, everything started "falling into place." — David W., California
This course was a delight: a well-balanced mixture of text, recordings and videos that helped me to pacify and reconcile the path of being a Christian with practicing yoga. It is a great pleasure to discover that there is actually no incompatibility between these two paths and that they actually form one and the same path to commune with God. — Alba S., France
The 'Yoga Teachings of Jesus' is awe inspiring. A wonderful course indeed. As of now, this course is my favorite. . . . Yogananda's insight to the life of Jesus is so heartwarming. Simply put, I can't get enough! Thank you Sagar, for your efforts in laying out in such a clear and concise way, the 'Yoga Teachings of Jesus'. It was a labor of love. — Paul M., Colorado
What a great course! Incredible! . . I studied to be a Christian minister and I had studied the Bible(KJV) for three years. So I was already familiar with the Bible verses that are referenced in the course. When I studied the Bible, on what I thought was my path to become a Christian minister, I had many questions that the pastor could not answer. The course "The Yoga teachings of Jesus" has really helped me realize what the words of Jesus actually mean. I have a much greater perspective on the teachings of Jesus, than ever before. — Brendan B., Delaware
I think my family became used to me emerging from one of the webinars or readings exclaiming why my years of sermon listening, church going and Sunday School teaching lead to no real understanding of Christ's mission on earth. Now I'm beginning to grasp the enormity of what he was saying and also the level of commitment and devotion that is required. The meaning of life, I feel now, has been outlined, like a map. One just has to start the journey. — Gillian F., United Kingdom